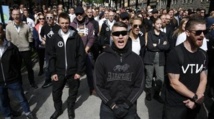 "Sweden is at a crossroads," Lofven, leader of the Social Democrats, said after voting in Stockholm with his wife.
Polls have suggested that a left-leaning bloc led by Lofven's Social Democrats is neck-and-neck with a four-party centre-right opposition known as the Alliance, with the Sweden Democrats expected to increase their share of the vote.
The Sweden Democrats, who garnered 13 per cent of the vote in 2014, have been polling well in the run-up to the election as debates have often focused on immigration and crime rates.
The party is vying with the conservative Moderate Party to become the second-largest party. Other parties have said they will not cooperate with them, citing their strong racist roots.
Jimmie Akesson, leader of the Sweden Democrats, told a rally late Saturday that his party was "the only guarantee for a tough immigration policy," adding that the other parties have failed to see problems with immigration.
Lofven said on Sunday the election was "a referendum on welfare," cautioning against tax cuts proposed by the centre-right opposition. "This election is also about decency, and we stand for decency," he said.
He said his party would not allow the Sweden Democrats to "determine Sweden's future," before heading to meet voters in several Stockholm suburbs.
Support for the Social Democrats was projected at around 25 per cent, a historic low. In 2014, the party had 31 per cent.
The other main contender for prime minister, Moderate Party leader Ulf Kristersson, handed out ballots to voters outside a polling station in his hometown Strangnas.
Kristersson and his wife later lined up with other voters. After voting, Kristersson headed to Stockholm to reach out to undecided voters.
Kristersson's candidacy is backed by the Liberal Party, the Centre Party and the Christian Democrats, the other members of the Alliance.
Support for the Moderate Party has also slid in the past four years, with the party polling at around 18 per cent.
The formation of a new government is predicted to be complicated since neither bloc is projected to secure a majority.
Almost 7.5 million people in Sweden are eligible to vote. Polls close at 1800 GMT. The Election Authority said more than 2.6 million people had cast postal ballots.
In addition to national elections, voters will elect 20 county council assemblies and 290 municipal assemblies.