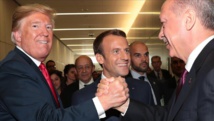 Erdogan has repeatedly said Turkey won't step back from the deal to acquire Russia's S-400 surface-to-air missile system, despite mounting pressure from Washington.
"No one can demand that we give it up," Erdogan said this month in Moscow alongside Russian President Vladimir Putin. "This is our sovereign right."
Putin said delivering the S-400 to Turkey is a national priority.
The deal has raised tensions with the US, which says a NATO ally should not acquire such equipment from an adversary and jeopardizes Turkey's role in the F-35 fighter jet programme.
Ankara has additionally been trying to convince Washington to allow its top crude refiner Tupras to continue importing Iranian oil while also averting looming US sanctions.
Washington will not extend waivers to eight countries that were allowed to buy oil from Iran despite US sanctions that went into effect in November.
The six-month waiver on Iranian oil imports granted to Turkey, China, India, Italy, Greece, Japan, South Korea and Taiwan expires on May 2 - which means they will have to stop buying Iranian oil, or face sanctions.