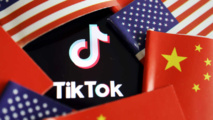 The ban is set to go into effect late on Sunday, just before midnight. The move would prohibit marketplaces like the Apple App Store from offering TikTok for download.
The US government filed the paperwork on Friday. In the court documents, the administration reiterated its argument that TikTok collects a lot of data from US users. It noted that from Washington's point of view, there is a risk that Chinese authorities may gain access to it.
Some passages of the court documents have been crossed out with black marker. This also includes the reason why the US government continues to see risks despite the assurance that data from American users will be stored in the United States under a tentative deal between TikTok and two major US firms.
The court scheduled a hearing for Sunday on an application by TikTok for an injunction against the download ban.
A US judge had ruled on Thursday that the government must defend its ban or delay it. Judge Carl Nichols handed down that ruling in response to a petition by TikTok and its parent company, the China-based ByteDance.
The Trump administration is trying to force a sale of TikTok to US companies, saying it is concerned about user data falling into the hands of the Chinese government.
The fate of talks to buy TikTok remains unclear. Oracle and retailer Walmart have made an offer for a percentage of TikTok in the US, though it remains unclear if their control will be enough to satisfy Washington.