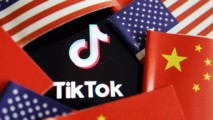 A judge granted a preliminary injunction to TikTok on Sunday, blocking the planned ban on new downloads in the US which would have taken effect just before midnight.
It would have prohibited marketplaces like the Apple App Store from offering TikTok for download.
The court declined to rule on a ban the Trump administration has slapped on TikTok from November, which may still go ahead.
The judge also called on the two sides to reach agreement on a time scale for the way forward.
Meanwhile the Commerce Department in a statement said the US government "will comply with the injunction and has taken immediate steps to do so."
At the same time the Commerce Department said it intended to "vigorously defend" Trump's executive order and the Commerce Secretary's implementation efforts from legal challenges.
According to decisions by Washington, the app will stop working completely for US smartphone users on November 12.
TikTok, one of the most popular social media platforms in the country, has around 100 million users in the United States.
The app allows users to create short videos - often with some basic effects and music.
The administration of President Donald Trump argues that as TikTok collects users' data, it is a security risk, saying Chinese authorities may gain access to that data. TikTok and its Chinese parent firm ByteDance deny the allegations.
The Trump administration is trying to force a sale of TikTok to US companies, saying it is concerned about user data falling into the hands of the Chinese government.
Washington continues to see risks despite the assurance that data from American users will be stored in the United States under a tentative deal between TikTok and two major US firms, Oracle and Walmart.
The fate of talks to buy TikTok remains unclear. Oracle and retailer Walmart have made an offer for a percentage of TikTok in the US, though it remains unclear if their control will be enough to satisfy Washington.