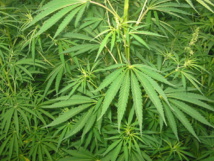 More than 1,200 plants, capable of producing 1,257 kilogrammes of marijuana, were discovered in the Sicilian province of Catania, the Carabinieri police said.
Officers also found 52 kilogrammes of marijuana stored in wooden crates and firearms. They arrested six people, including an 81-year-old man.
Five of the suspects were placed in pre-trial detention, while the 81-year-old was put under house arrest due to his age, the Carabinieri said.
In the second operation, police destroyed 1,250 cannabis plants in the inland Sardinian province of Sardinia, which could have produced "at least" 600 kilogrammes of marijuana, they said.
The plantation was discovered after an off-duty Carabiniere noticed a powerful scent of marijuana during a walk in the countryside with his dog, police said.