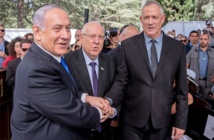 According to media reports, Gantz's alliance has broken apart in response to the development, with only some members expected to enter into government with Prime Minister Benjamin Netanyahu and his right-wing and religious bloc.
Gantz could reportedly serve as foreign minister in a grand coalition with Netanyahu. The two leader would rotate as prime minister, with Netanyahu remaining prime minister for a year and a half before being replaced by Gantz in September 2021.
The vote for a new speaker of the Knesset comes a day after Yuli Edelstein announced his surprise resignation in response to an order from the country's high court to hold a vote for his successor.