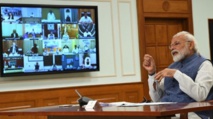 The death toll rose to 95,542, after 1,039 deaths were recorded in the same period.
The pandemic is spreading faster in India than anywhere else in the world, but in a respite, the seven-day average of new cases declined for nine days till September 26, the Times of India reported, citing data from from European Centre for Disease Prevention and Control.
India is set to become the country worst hit by the pandemic by next month, overtaking the United States, where more than 7 million infections have been reported.
Authorities and doctors have warned about two key events in India next month – the beginning of the Hindu religious festival season that sees large congregations and busy markets as well as elections in Bihar state that has some 72 million voters.
Dussehra and Durga Puja are due in October and Diwali the festival of lights, Diwali, will be celebrated a month later.
India, the world's second most populous country with 1.3 billion inhabitants was expected to record a huge number of cases after it eased a lockdown in mid-May to restart economic activity.
It has added the highest number of daily cases in the world since August, reporting between 80,000 to 90,000 new infections every day, government data shows.
Even as infections mount, the country has the highest number of recovered patients in the world, with a recovery rate of 82.58 per cent, officials said.
Health Minister Harsh Vardhan meanwhile cautioned Indians against complacency, adding that India was still far away from achieving herd immunity.
He was citing a soon-to-be released serological survey and asked Indians to strictly follow precautions to prevent the spread of the disease.
British medical journal The Lancet said Indian leaders giving "too positive spin" and providing false optimism on the coronavirus crisis as well as possible under-reporting of Covid-19 fatalities may hamper - instead of help - public health initiatives.
Globally, Covid-19 has infected more than 32.9 million and killed almost 1 million people, according to the Johns Hopkins University.