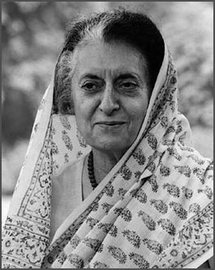 According to footage aired by the NDTV news channel, Varun Gandhi also said Muslims "have scary names like Karimullah, Mazullah" and that "if you meet them at night you will be scared."
India's Election Commission said it had reviewed his speeches and had ordered he face "criminal charges" in Uttar Pradesh state, where the speech was given, for stoking sectarian tensions.
A police spokesman in state capital Lucknow told AFP by telephone a criminal case of "causing enmity among people on religious grounds" had been registered against 29-year-old Varun.
An Election Commission official told AFP that an official warning was also to be issued to the BJP.
Muslims make up India's largest minority community, and relations with majority Hindus have been troubled and often violent since the country secured independence from Britain in 1947.
Varun's comments were criticised by the ruling Congress party, which is headed by Sonia Gandhi, the widow of Indira's eldest son Rajiv, and the torch bearer of the Nehru-Gandhi dynasty.
Varun said the allegations were untrue.
"I strongly refute the charge of making any communal or divisive statements as part of my election campaign," he said.
"In this climate of terrorism, I have spoken only about standing firm against the anti-national and anti-social forces that threaten this nation," Varun added. He said the recordings of his speeches had been tampered with.
Varun is the son of Indira's second child Sanjay, a side of the family that was disowned by the dynasty. The Nehru-Gandhi dynasty has no blood relation to Mahatma Gandhi, the icon of India's independence movement.
A Congress spokesman accused the BJP of being a party with an anti-minority ideology.
A BJP spokesman, however, insisted that "the traditional culture of BJP can never teach a person to speak so irresponsibly."
India goes to the polls to elect a new parliament and government from April 16 to May 13.
--------------------------------------------------------------
Image from http://yfred.files.wordpress.com.