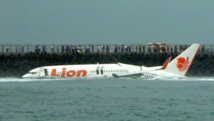 A spokesman for the Navy's Western Fleet Command, Agung Nugroho, told dpa that navy divers discovered the cockpit voice recorder in waters near the crash site off the coast of West Java.
Nugroho said it was buried under thick mud in water 30 metres deep.
The head of the Navy's Hydrography and Oceanography Center, Harjo Susmoro, said navy vessel Spica-934 departed Tanjung Priok Port in Jakarta on January 8 to scour a search area for the voice cockpit recorder.
The search area was about 50 meters from where the flight data recorder (FDR) was found. The FDR was found in November just a few days after the plane crashed on October 29
"The mission only had 15 days left, given that the beam transmitted from the CVR only lasts for 90 days since the plane crashed on October 29," Susmoro said.
"They managed to find the CVR in six days since deployment," he added.
The Boeing 737 Max 8 jet lost contact with air traffic controllers 13 minutes after it took off from Jakarta's Soekarno Hatta airport on October 29. The pilot was reported to have asked to return before he lost contact with the controller.
The plane crash, which was the worst in Indonesia in recent years, occurred just months after the European Union lifted all Indonesian airlines from its blanket ban to fly the European skies in June last year.