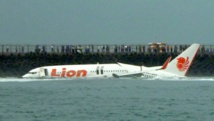 The fuselage of the Boeing 737 MAX 8 is believed to be on the sea floor at a depth of about 35 metres, he said.
Photos posted on Twitter by the spokesman for the National Disaster Management Agency showed items such as a mangled mobile phone, a torn bag and pieces of debris believed to be from the aircraft.
The items were found by the crew of a ship belonging to the state oil company Pertamina near its offshore site off Bekasi, agency spokesman Sutopo Nugroho said.
The plane was carrying 181 passengers, including a baby and two children, as well as seven crew members, Sutopo added.
A spokesman for the air navigation company AirNav said the plane lost contact 13 minutes after taking off from Soekarno-Hatta International Airport at 6:20 am (2320 GMT Sunday).
It had been scheduled to land in Pangkal Pinang in the province of Bangka-Belitung Islands at 7:20 am.
The weather conditions were considered safe when the plane took off, according to Dwikorita Karnawati, the director of the Meteorology, Geophysics and Climatology Agency.
"It was a bit cloudy but there were no clouds that could have endangered flights. When there is a significant weather condition, we usually issue a warning so that flights can be postponed," she added.
In 2013, a Lion Air Boeing 737 carrying more than 100 people crashed into the sea while trying to land on the resort island of Bali, nearly splitting the fuselage into two, though there were no fatalities.
In June, the European Union removed Indonesian airlines from its list of carriers that do not meet international safety standards.
The blanket ban preventing Indonesian carriers from operating in Europe was imposed in 2007 following a string of deadly air incidents.
Several Indonesian airlines, includng flag carrier Garuda, were taken off the banned list in 2009 after steps were taken to improve safety.
Lion Air is Indonesia's largest low-cost airline.