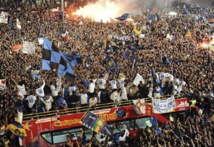 "I have given the best of myself were I felt at home," the star coach told La Gazzetta dello Sport Friday, on the anniversary of the 2010 Champions League final won 2-0 against Bayern Munich.
Five days before the success in Madrid, Mourinho had won his second Scudetto with the Nerazzurri, after lifting the Italian Cup earlier in May.
"It has happened that I put myself above the others, but never at Inter," he said. "This happens with families: when you become a father, you understand that others are more important than yourself, and you take a backseat."
The continental trophy was the Portuguese's second, after the 2004 triumph with Porto, where he won the national title in 2003 and 2004.
Inter ended a long drought since their two previous consecutive wins in the 1960s.
The 63-year-old, now at the helm of Tottenham, arrived in Milan after two Premier League titles with Chelsea, and after the treble moved to Real Madrid, where he clinched the 2012 Liga title.
"Today I could maybe stay four, five or six years at the same club," he said, "but back then I wanted to be the first – and I am still the only among coaches – to have won the English, Italian and Spanish titles."
Notepad