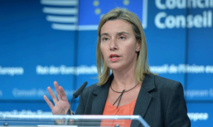 US President Donald Trump must decide on Friday whether to renew his country's waiver on nuclear-related sanctions, followed by a decision Saturday on renewing his certification of the 2015 Iran deal.
Even if Trump does not reimpose nuclear sanctions, the US might soon slap further measures on Tehran in relation to other issues, such as support for terrorists abroad.
Such a move would not violate the terms of the Iran deal, but would run counter to its goal of easing tensions between Tehran and the West.
Trump has repeatedly called into question the 2015 nuclear deal and described it as "one of the worst" transactions ever entered into by the US.
In contrast, the EU is pushing for continued implementation of the agreement, which aims to prevent Iran from constructing nuclear weapons in return for the lifting of sanctions.
EU ministers are also expected to discuss a wave of political unrest that has gripped Iran in recent weeks.
Protests began on December 28 over economic issues, Tehran's Middle East policies and the country's religious establishment. Eighteen demonstrators were killed and up to 3,700 people have been arrested.
Critics have accused the European Union of failing to quickly and unequivocally condemn Tehran's response, in an apparent bid to avoid undermining the nuclear deal.