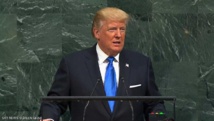 "The American side had suggested a meeting of the two, which was however declined by President Rowhani," ministry spokesman Bahram Ghassemi said, according to a report on Sunday by the Tasnim news agency.
The two leaders would go on to trade barbs in their speeches at the annual UN assembly, with Trump calling Iran "a corrupt dictatorship," while Rowhani lashed out at the "rogue newcomers" in US government.
Earlier this month, Trump declared he would seek to toughen up the landmark 2015 deal between the Islamic Republic and world powers, which lifted sanctions in return for curbs to Iran's nuclear capabilities.
Trump has threatened to ultimately walk away from the deal, if the US Congress or US allies do not agree to tougher restrictions.