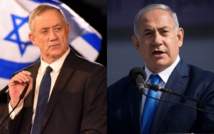 The Israel Security Agency informed former army chief of staff Benny Gantz five weeks ago that his phone had been hacked by Iranians, Channel 12 news reported last week.
Iranian Foreign Ministry spokesman Bahram Qassemi dismissed the report, saying "the Zionist regime's officials have grown accustomed to spreading lies about Iran on a daily basis," read a statement published by his ministry.
Israeli Prime Minister Benjamin Netanyahu has used the allegations as a central facet of his election campaign against Gantz.
In a statement Wednesday, Netanyahu questioned whether Gantz used his personal phone irresponsibly.
"How will you face Iran, the number 1 enemy, as prime minister when Iran has sensitive information about you?" he said, saying that Gantz could now be a target of blackmail.
Gantz has said there was no security information on the phone.
A spokesperson for his campaign said that the alleged hack occurred before he entered the political arena. His campaign has also stressed that it happened some four years after he finished his term as army chief of staff.
The spokesperson did not confirm or deny that the hack was carried out by Iranians but described the timing of the leak, in the midst of his campaign, as "peculiar."
Dpa could not reach the Israel Security Agency for comment.
Israeli will hold its general election on April 9.