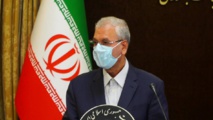 He anticipated that Chief Justice Ebrahim Raisi would proceed with the case "with goodwill and mercy, in addition to consideration of the legal criteria."
Under the hashtag #NoToExecution, millions of Iranians have taken to social media to protest the death sentences. It seems that the justice system has taken some notice, as the lawyers for the three were allowed to file an appeal, even though the death sentences were confirmed by the Supreme Court and thus legally binding.
The protests come after Justice Ministry spokesman Gholam-Hussein Ismaili said the Supreme Court had confirmed that the death penalty had been handed to Amirhossein M, Mohammad R and Saeed T on Tuesday.
Once confirmed by the Supreme Court, a death penalty is final and can not be revoked, according to legal experts.
Ismaili had rejected criticism of the death penalty at a press conference, saying the men were violent ringleaders and had set fire to a number of buildings and transport facilities.
The men had recorded their actions on their phones, Ismaili added, and the evidence has been considered by the court.
Iran was rocked by days of unrest after a hike in petrol prices in November 2019. The protests were violently suppressed by security forces.