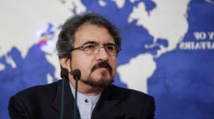 "The delegation has already held long and intensive talks with Deputy Foreign Minister (Abbas) Araghchi in Tehran," Foreign Ministry spokesman Bahram Ghassemi said on Monday, according to the ISNA news agency.
According to Ghassemi, Afghanistan is 50 per cent controlled by the Taliban and there can be no peace process in the country without their involvement in political negotiations.
However, this did not mean that Tehran was politically on the same wavelength as the Islamist group, the spokesman said. The goal was to create peace in Afghanistan for the government and the people, he said.
In November, Russia hosted peace talks between the Taliban and envoys from countries associated with the Afghan state, including Iran.
Iran has so far classified the Taliban as a terrorist organization, and in the late 1990s it was even on the brink of war with the group.
Iranian media on Monday criticized the negotiations between the two sides. The Foreign Ministry, however, stressed that the leadership in Kabul had wanted these negotiations to solve Afghanistan's long-standing security problems.