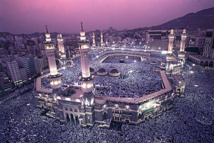 "The ministry of hajj and the Iranian organisation have completed all the necessary measures to ensure Iranian pilgrims perform hajj 1438 according to the procedures followed by all Muslim countries," the official Saudi Press Agency said, referring to this year in the Islamic calendar.
For the first time in nearly three decades Iran's pilgrims -- which would have numbered about 60,000 -- did not attend the hajj in 2016 after the two countries failed to agree on security and logistics.
Riyadh and Tehran have no diplomatic relations, and tensions remain as Sunni-majority Saudi Arabia repeatedly accuses Iran of fuelling regional conflicts by supporting armed Shiite movements in Syria, Iraq, Yemen and Bahrain.
But the Saudi hajj ministry said on Friday that the kingdom, the birthplace of Islam and custodian of its holiest sites, welcomes "all pilgrims from all the different nationalities and backgrounds".