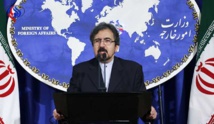 Tehran has repeatedly expressed a willingness for talks with Saudi Arabia, not just to the Saudi government but also to other countries that have wanted to mediate between the two regional powers.
"The Saudis have consistently shown no interest," Iranian Foreign Ministry spokesman Bahram Ghassemi said Saturday, according to news outlet Pana.
In order to avoid a complete severing of ties, the Swiss embassy in Riyadh will represent Iran's interests in the country, Ghassemi said.
Saudi Arabia, predominantly Sunni Muslim, ended its diplomatic relationship with Shiite Muslim Iran after protesters stormed the Saudi embassy in Tehran and set parts of the building ablaze in January 2016. The protests were triggered by the Saudi government's execution of 47 people, including a prominent Shiite cleric.
The two countries also stand on opposing sides in the Syrian civil war: Iran supports Syrian President Bashar al-Assad, while Saudi Arabia supports the anti-government rebels.
Iranian President Hassan Rowhani repeatedly condemned the attack on the Saudi embassy and subsequently signalled a willingness toward a reconciliation, but the Saudis have so far continued to show Rowhani and the Iranian Foreign Ministry the cold shoulder.