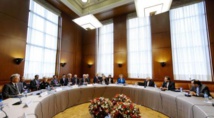 "The nuclear deal is an internationally recognized and concluded pact and is not renegotiable," the Foreign Ministry in Tehran said in a statement Saturday.
Tehran would neither accept changes or new obligations, the statement continued.
The 2015 deal, known as the Joint Comprehensive Plan of Action (JCPOA), was signed by the US under the previous administration of president Barack Obama as well as Iran, China, Russia, Britain, France and Germany.
It is aimed at ensuring Iran uses its nuclear capabilities for peaceful purposes while preventing it from gaining nuclear weapons. In exchange, economic sanctions on it were lifted.
But Trump, who must meet regular deadlines to endorse the deal every 90 days and approve sanctions waivers every 120 and 180 days, has railed against the agreement.
On Friday, announcing his decision to waive the application of certain sanctions related to oil sales and Iran's banking system, he said he was only making the move to secure European allies' agreement to fix the deal's "flaws."
He said it gave Iran "far too much in exchange for far too little," and demanded a new agreement that would impose fresh sanctions on Iran if it developed or tested long-range missiles, thwarted inspections or made any progress towards a nuclear weapon.
"This is a last chance," Trump said. "In the absence of such an agreement, the United States will not again waive sanctions in order to stay in the Iran nuclear deal."