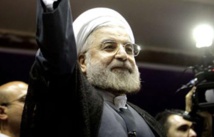 "Surrendering is not compatible with our culture and religion, and people do not accept it, so we must not surrender and we must find solutions," the Iranian leader told political activists, according to a statement published on his office's website late on Saturday.
On Wednesday, Rowhani said Tehran would begin to withdraw from key aspects of the 2015 international nuclear deal unless major powers swiftly grant promised sanctions relief.
That day marked one year since US President Donald Trump announced that his country would pull out of the agreement.
Following Rowhani's announcement, Trump said he would like to hear directly from Iran's leaders.
"What I'd like to see with Iran - I'd like Iran to call me," Trump said. "We are not looking to hurt Iran. We want them to be strong and great and have a great economy," he told reporters.
Rowhani compared his country's current situation to the one during the eight-year war between Iran and Iraq in the 1980s.
"Today, it cannot be said that the conditions are better or worse than the Imposed War [with Iraq], but during the war we did not have problems with banking, oil sales and imports and exports, and our only sanction was boycott of arms purchases," Rowhani said.