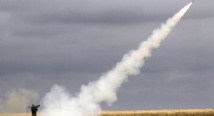 The row comes against a backdrop of already-strained relations over US President Donald Trump's travel ban on citizens from Iran and six other Muslim-majority countries.
The European Union appealed to Tehran to refrain from activities such as the missile tests "which deepen mistrust".
But the diplomatic push by the West quickly ran into trouble as Russia said a missile test would not breach a UN resolution on Iran's nuclear programme.
Moscow, which is fighting alongside Tehran's forces in Syria, said the demand for emergency talks at the Security Council was aimed at "heating up the situation".
Tehran has neither confirmed nor denied firing any missiles over the weekend.
US President Donald Trump has sharply criticised the nuclear deal that led to a lifting of international sanctions against Iran, which used the occasion of a visit by France's foreign minister to express its discontent with Washington.
"We hope that Iran's defence programme is not used by the new US administration... as a pretext to create new tensions," Iran's Foreign Minister Mohammad Javad Zarif said at a press conference with Jean-Marc Ayrault.
Iran says its missiles do not breach United Nations resolutions because they are for defence purposes and not designed to carry nuclear warheads.
"We have always declared that we will never use our weapons against others except in our defence," Zarif added.
And he slammed the new US administration's "shameful act of denying entry to people holding legal visas" for the United States.
Speaking at the same news conference, Ayrault said France had made clear its disquiet over the missile tests.
"France has expressed its concern at Iran's continuation of its ballistic missile tests on several occasions," he said.
He said the continued tests are "contrary to the spirit" of the Security Council resolution on the nuclear deal struck in 2015 in the Austrian capital, and "hamper the process of restoring the confidence established by the Vienna agreement."

- 'Head in the sand' -

Washington called for the emergency UN meeting after a request by Israel which said the missile test violated UN resolutions that bar Iran from launching ballistic missiles that could have a nuclear capability.
"The international community must not bury its head in the sand in the face of this Iranian aggression," said Israel's ambassador to the United Nations, Danny Danon.
"The Security Council members must act immediately in response to these Iranian actions which endanger not only Israel, but the entire Middle East."
But Russia indicated it had little appetite for any move to censure Iran at the UN Security Council over the reported missile test.
"Such actions, if they took place, do not breach the resolution," Russian deputy foreign minister Sergei Ryabkov told Interfax news agency.
Ryabkov said that Moscow, which co-signed the nuclear deal, had not confirmed the missile test took place.
The Security Council resolution adopted a few days after the 2015 nuclear agreement bars Iran from developing missiles "designed to carry nuclear warheads."
Iran has said its missiles would never carry a nuclear warhead as it has no plans to develop atomic weapons.
The White House said Monday it was aware that Iran had recently carried out a missile test, but refrained from offering details or criticism.
In Brussels, an EU foreign affairs spokeswoman said the bloc "reiterates its concern about Iran's missile programme and calls upon Iran to refrain from activities which deepen mistrust, such as ballistic missile tests".
Israeli Prime Minister Benjamin Netanyahu said on Monday that the launching of a ballistic missile constitutes a "flagrant violation" of UN rules.