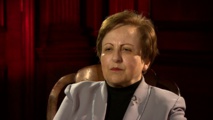 22 people were confirmed dead across Iran on Monday, as a wave of anti- government protests that began last week showed no sign of letting up, forcing President Hassan Rowhani and his government to address demonstrators' demands.
"The problems of the people are not simply economic in nature. They're also demanding more freedoms," said Rowhani, in an indirect attack on regime hardliners who oppose his attempts to push through political and cultural reforms.
"This government does not have everything under its control," said Rowhani at an emergency meeting of lawmakers, referring to the fact that final authority on many key matters rests with conservative clerics.
He added that it would be a mistake to view the protests as a foreign conspiracy.
State television had confirmed the 10 deaths before the summit. They were reported in several cities, including Dorud and Tuyserkan in the west, Iseh in the south and central Shahin Shahr.
In a separate report, Iranian lawmaker Hojatollah Khademi told the Ilna news agency that there had been two deaths in Iseh overnight. It's not clear if those are the same two deaths reported elsewhere.
The politician also reported arrests and injuries, with some of those detained discovered with guns, munitions and explosives.
Some unconfirmed reports on social media have stated that parts of the city were briefly occupied by anti-government protesters. There were also unconfirmed reports of two further deaths in Dorud on Saturday.
Since Thursday, masses of Iranians have taken to the streets to air their grievances - including the high cost of living, unemployment and Tehran's Middle East policies. Others have targeted the country's religious establishment.
Tehran had dismissed such protests as a conspiracy led by Iran's international opponents such as the US, Israel and Saudi Arabia.
"Using social networks, they try to poison the thoughts of our young," said Ayatollah Mohammad Ali Movahedi-Kermani, a member of the Assembly of Experts, at Friday prayers in Tehran.
US President Donald Trump has used the protests to repeatedly bash the Iranian government and warned it against any human rights abuses, building on his crusade against the 2015 nuclear deal that Iran signed with world powers under Trump's predecessor, Barack Obama.
"Iran is failing at every level despite the terrible deal made with them by the Obama Administration," he wrote, adding that the Iranian people were "hungry for food & for freedom."
Israeli Prime Minister Benjamin Netanyahu also used the protests to take a swipe at Iranian leadership, saying in a video message on Monday that "brave Iranians are pouring into the streets" in search of "basic liberties that have been denied to them for decades."
Netanyahu accused Tehran's "cruel regime" of wasting money on sowing hate between Israel and Iran, whose government are arch-enemies.
The Israeli leader also used the situation in Iran to criticize European leaders, saying in the video that "many European governments watch in silence as heroic young Iranians are beaten in the streets."
One European leader - German Foreign Minister Sigmar Gabriel - did add his voice to the discussion later on Monday: "We call on the government to respect demonstrators' freedom of assembly and their right to give voice their opinion freely and peacefully."
An EU spokesperson later said that the bloc had been in touch with the Iranian authorities. "We expect that the right to peaceful demonstration and freedom of expression will be guaranteed, following President Rowhani's public statements," the spokesperson said.
Internet users reported that social media was up and running again, a day after authorities shut down services like Telegram and Instagram, which have been used by some demonstrators to organize gatherings.
According to unconfirmed reports circulated online, between 100 and 800 people have been detained amid the protests.