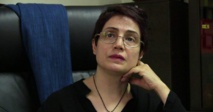 "Nasrin called off her hunger strike yesterday because of her critical condition," tweeted her husband Reza Chandan, adding that her health had been concerning for the past few days.
Sotoudeh last week spent five days in a hospital in Tehran after suffering heart failure. She was released on Thursday and taken back to the Iranian capital's infamous Evin prison.
The 57-year-old lawyer and women's rights activist has been on hunger strike in protest against the conditions of political prisoners during the coronavirus pandemic.
Sotoudeh is accused of disseminating "subversive propaganda". According to her husband, she was sentenced by a revolutionary court in 2018 to 33 years and six months in prison and 148 lashes.
She must serve at least 12 years in detention. Later reports put the sentence at 38 years.
Sotoudeh denied all charges against her in court, claiming she had only peacefully engaged for women's rights and against the death penalty.
She and her husband are among the most renowned human rights activists in Iran.
Notepad