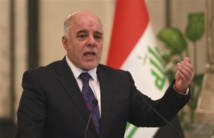 Press secretary Sean Spicer said Chancellor Angela Merkel of Germany will visit next week and "the following week, the president will welcome the prime minister of Iraq."
Tensions between Washington and Baghdad have built since Trump introduced a ban on Iraqis visiting the United States.
That measure was later frozen by the courts and after fierce lobbying from inside and outside the administration, Iraqis were excluded from his new travel ban unveiled Monday.
The Iraqi government hailed the country's exemption as an "important step" that strengthens relations between Baghdad and Washington.
"The Iraqi foreign ministry expresses its deep satisfaction with the executive order issued by President Donald Trump which includes an exemption for Iraqis from the ban on travel to the United States of America," spokesman Ahmed Jamal said.