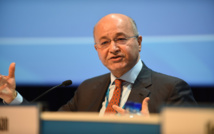 Saleh, of the Patriotic Union of Kurdistan (PUK) party, received 219 of 277 votes, beating out his opponent, Fuad Hussein of the Kurdistan Democratic Party (KDP), who got 22 votes, in the second round of the election.
Political tradition dictates that a Kurdish politician serve in the ceremonial post of president. The role of parliament speaker is traditionally performed by a Sunni Muslim, and the prime minister is a Shiite.
Under Iraq's constitution, the prime minister-designate has 30 days to present his cabinet to parliament.
Tuesday's vote to choose the president was characterized by confusion, after the deputies of the KDP announced the withdrawal of their nominee from the second round. In the first round, Neither Saleh nor Hussein secured the required two-thirds of votes.
Lawmakers rejected the withdrawal of Hussein and ordered a second round with a simple majority between the two candidates.
"I pledge to safeguard the Iraqi constitution," Barham said as he was sworn in. "I will be a president for Iraq, and not for a certain component. I will protect the unity of Iraq."
Saleh was born in the city of Sulaimanya in the Kurdistan region of northern Iraq in 1960. He joined the PUK in 1976.
He was detained for 43 days by Saddam Hussein's regime on charges of involvement in the Kurdish national movement in 1979. He fled to London, where he obtained a doctorate in statistics and computer applications from the University of Liverpool in 1987.
He was named the prime minister of the Kurdistan region from 2001 to 2004. After the fall of Hussein in 2003, he became deputy prime minister in the interim Iraqi government in mid-2004 and minister of planning in the transitional government in 2005.
Abdel Mahdi, the prime minister-designate, will replace incumbent Haidar al-Abadi, who heads a caretaker government. Mahdi is a Shiite politician and economist.
He was the finance minister in the government of former prime minister Ayad Alawi, from June 2004 to April 2005.
He was named as vice president between 2006 and 2010 and in 2011 before he resigned from the post in the same year. He was also named oil minister in 2014.
Iraqis voted on May 12 to elect the country's 329-member parliament, a vote that was marred by allegations of fraud.
The parliament's four-year mandate expired on June 30, when the current government turned into a caretaker cabinet with limited powers to run the country until the vote recount was completed and the final results were endorsed by the Federal Supreme Court in August.