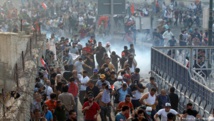 One protester told dpa that the forces fired bullets and tear gas to disperse the demonstrators.
Witnesses said that 27 protesters were wounded and that security forces set fire to tents on the highway connecting Sanak Bridge and Tahrir Square in central Baghdad.
Earlier on Saturday, the Baghdad Operations Command said security forces reopened Mohamed al-Qassim highway and other roads near Tahrir Square.
Meanwhile, some protesters dismantled their tents and left the protest camps in the cities of Basra, Dhi Qar, Najaf and Karbala in response to a call by influential Shiite cleric Moqtada al-Sadr.
Street protests have roiled Iraq since October. Demonstrators want a new government and parliament, as well as an overhaul of the political system, which has been in place since the 2003 US-led invasion.
Repeated reform promises from the country's politicians have failed to assuage the angry, predominantly young protesters.