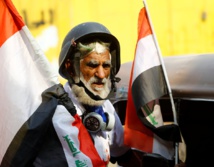 The protesters also demanded authorities to bring to justice suspects in the killings of hundreds of demonstrators during rallies that had gripped Iraq late last year, witnesses said.
No violence was reported on Sunday.
Street protests have roiled Iraq since early October, with demonstrators calling for the resignation of the government, the dissolution of parliament and an overhaul of the country's political system, which has been in place since the 2003 US-led invasion.
Those protests were marred by a deadly crackdown on demonstrators.
Then-prime minister Adel Abdel-Mahdi resigned in late November under pressure from the street protests.
On Wednesday, lawmakers approved the majority of the cabinet of ministers proposed by the new prime minister, Mustafa al-Kadhimi.
The new premier has pledged to investigate violence against protesters and to release those of them who are still in custody.
Al-Kadhimi's government will have to grapple with a deep economic crisis compounded by the fall oil prices, the main source of Iraq's income, and the outbreak of the novel coronavirus.