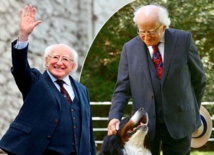 Michael D Higgins
"This is your presidency and I will work for you and with you towards a future of equality, participation, inclusion, imagination, creativity and sustainability," the politician and long-time poet said.
Higgins was elected to a second seven-year term in office last month, after winning a clear majority of votes with the support of Irish Prime Minister Leo Varadkar.
The inauguration ceremony came shortly after the incumbent president attended commemorative events in Dublin for the 200,000 Irish soldiers who fought in World War I, on the centennial anniversary of the end of the conflict.