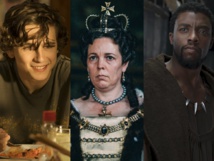 Studios spent tens of millions of dollars during the last four months to woo Oscar voters for movies including "
Roma
," "Green Book" and "A Star Is Born," hoping for the prestige and legitimacy that comes with the top honors. Despite the spending, many in the film industry increasingly question the economic and cultural value of the awards.
The so-called Oscar bump - a surge in cinema ticket sales from awards season success - has been particularly modest this year. Some industry players worry the awards themselves have become less meaningful to the broader public, with movies taking a backseat to prestigious television shows. And the Oscars brand itself has suffered from a steep decline in television ratings and a series of self-inflicted crises.
"There's a risk they just seem a little more irrelevant," said
Bruce Nash
, head of film data firm Nash Information Services. "There's a sense that the buildup has been a bit of a mess."
Oscar campaigns remain costly endeavors. For a true contender, traditional studios budget about 15 million dollars for full-page spreads in trade magazines, billboard ads, Q&A screenings, private jet flights for filmmakers and actors, and elaborate coffee table books mailed out to voters and journalists.
Studios have continued to spend heavily on campaigns in part because of fresh competition.
Netflix Inc.
in particular has waged an unusually aggressive campaign this year to win its place among the major studios with
Alfonso Cuaron's
lyrical black-and-white movie "
Roma
," stoking anxiety among the traditional distributors and cinema chains that worry the streaming giant is undermining their business.
Yet some industry executives privately worry that all that spending is going toward an event that is becoming increasingly niche and self-congratulatory, holding little sway with the general public.
"This is part of a larger question, which is, 'What is the value of this award to future generations?'" said one studio executive who did not want to be named discussing the race. "For the first 90 years, the award symbolized recognition by your peers and mattered to the larger culture. The question is whether or not that is still the case."
There is ample reason for concern. The audience for the telecast is clearly shrinking. The show drew a record low of 26.5 million viewers last year, down nearly 20 per cent from 2017, according to Nielsen. Ratings were 40 per cent lower than in 2014, when viewership hit 43.7 million. This year, there was some hope that nominating popular films like "Black Panther" and "A Star Is Born" would buoy viewership, but that optimism may prove to be misplaced.
ABC
will air the ceremony without a host, after
Kevin Hart
dropped out of the gig when he refused to apologize for past homophobic comments.
Other academy stumbles included an aborted plan to introduce a "popular Oscar" category. A decision to dole out four awards, including cinematography, during commercial breaks was reversed after criticism from luminaries including Cuaron and "The Shape of Water" director
Guillermo del Toro
.
Controversies, fueled by social media, have also consumed some of the nominated movies. "Green Book," about a white man who drives a black piano virtuoso through the Deep South in 1962, has been accused of promoting antiquated ideas about race. Queen biopic "Bohemian Rhapsody's" credited director
Bryan Singer
has been absent from the campaign trail since The
Atlantic magazine
detailed allegations of sexual abuse against him, which he has denied.
"The ratings have declined, and Oscars are famous in the last decade for picking less popular films," said
Jonathan Kuntz
, film historian at the
UCLA School of Theater, Film and Television
. "But the hype and commentary in the news media has been bigger than ever, so it's kind of weird."
The economic benefits of winning an Oscar have become more intangible in recent years. Movies such as "Million Dollar Baby" and "Slumdog Millionaire" earned more than 30 per cent of their domestic box office after winning best picture, according to data from measurement firm
Comscore
.
In 2012, "The Artist" scored 13 million dollars in ticket sales, 29 per cent of its theatrical business, after prevailing at the Academy Awards. Since then, no winner has received a bump of more than 7 million dollars. That partly reflects long-term declines in theatrical attendance, especially for the mid-budget, non-superhero fare that typically gets awards attention.
"That kind of payoff doesn't happen anymore," said
Tom O'Neil
, founder of the awards tracking website Gold Derby. "Movies move so quickly now that the afterlife of the film after Oscars is not as profitable."
The nominations, on the other hand, can help. Films released later in the year in a few theaters will expand their footprint to a few hundred
U.S.
theaters after contenders are announced, in hopes that people will want to see them before the telecast.
Universal Pictures
debuted "Green Book" to a soft box office in November, but the film has maintained momentum at the multiplex, grossing nearly $70 million so far. Nominations can be especially meaningful for foreign films and documentaries.
"Being in the awards race is a massive publicity campaign for months on end," said one awards consultant who did not want to be named ahead of the ceremony. "For something like 'Green Book,' it's a big deal."
But even the nomination bump has been limited. Top contenders including "Black Panther" and "BlacKkKlansman" were out of theaters well before Oscar season. "Bohemian Rhapsody" was already a global box-office juggernaut before the nominations and didn't need the academy's help. What's more, DVD sales that used to be a huge windfall for Oscar winners have dwindled.
"It's a timing thing," Nash said. "A lot of films, by the time they win, have played out."
For most, the Oscars' value comes in less measurable forms. Mounting a big awards push can maintain relationships with producers, directors and actors, which is increasingly important at a time when newer players like
Netflix
and Amazon are aggressively courting talent.
Cross-country private jet flights for
Bradley Cooper
represent a small price to pay for a major studio like Warner Bros.
Universal Pictures
sent out a weighty collection of books for
Damien Chazelle's
Neil Armstrong
drama "First Man," which got some early attention but failed to score a best picture nomination.
Walt Disney Co.
used awards season as an opportunity to remind people of the cultural moment it created with
Ryan Coogler's
Marvel Studios
blockbuster "Black Panther." This month
Disney
held free screenings for a week in hundreds of
AMC Theatres
locations to commemorate Black History Month.
An Oscar can also provide a badge of legitimacy for new players, as it did for A24 with "Moonlight" and
Open Road Films
with "Spotlight." The afterglow is fleeting, however. Open Road declared bankruptcy protection from creditors in September.
None has put more on the line than
Netflix
, which has gone to great lengths to promote "
Roma
," a mostly Spanish-language film about a live-in nanny in 1970s
Mexico City
. If it wins, it would be the first streaming movie to earn best picture.
The
Los Gatos
streaming giant spent at least 25 million to 30 million dollars on the "Roma" campaign alone, according to some estimates, a huge sum for a foreign-language film.
Netflix
has for weeks blanketed
Hollywood
trades and newspapers with "for your consideration" ads. Outdoor promotions for "Roma" are inescapable in
Los Angeles
. The company last year bought multiple billboards along the
Sunset Strip
, which is coveted advertising space for the entertainment industry. It also hired famed awards consultant
Lisa Taback
to lead its awards strategy. A "Roma Experience Day" event at
Raleigh Studios
in
Hollywood
late last year featured catered meals and Q&A's with Cuaron and the cast.