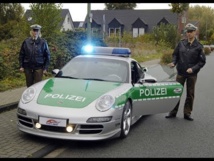 The three were arrested in the Dithmarschen region of the northern state of Schleswig-Holstein in an early morning raid. Police also searched residences in the northern state of Mecklenburg-Vorpommern and the southern state of Baden-Wuerttemberg, but no arrests were made there.
Federal police confirmed that there had been "investigative procedures" that started around 6 am (0500 GMT) in the northern state of Schlewsig-Holstein. The police said that units from multiple forces were involved, including some from other states. Special forces were also called in.
The suspects had no specific target in mind before their early morning arrest on Wednesday, prosecutors say. It was also not clear if they were members of an established terrorist group.
Spiegel magazine reported that the three men began laying their plans after their arrival in Germany in 2015 and received some assistance from unknown parties via Telegram, an encrypted messenger service.
Spiegel also reported that investigators had uncovered that the men had downloaded bomb instructions from the internet and begun harvesting explosive material from fireworks. They had also ordered ignition devices from Britain.
According to the report, one of the suspects had stated plans to kill as many "unbelievers, but no children" as possible.