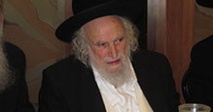 Auerbach died on Saturday from a heart attack at the age of 86.
The rabbi led the breakaway 'Jerusalem Faction' of non-Hasidic ultra-Orthodox Jewish of European descent.
His faction sought to oppose Israel's military draft of religious seminary students through large protests which sometimes turned violent.
Hundreds of police officers were deployed for Sunday's funeral and many streets in the area were closed.
Ultra-Orthdox military service remains one of Israel's most hotly contested political issues with many secular and traditional Jews resenting the community's disproportionate use of social welfare programmes without serving in the army.
In September Israel's High Court ruled against the exemption for young ultra-Orthodox men, sparking large-scale protests and clashes with police.
The majority of Israel's ultra-Orthodox young men oppose the military draft choosing instead to study biblical texts.
Auerbach's followers are considered draft dodgers because they refuse to even apply for a draft exemption unlike more mainstream ultra-Orthodox Jews.