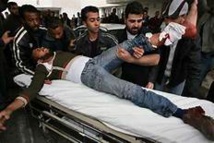 An Israeli army jet and tank fired on a vehicle belonging to a Hamas militant and two Hamas observation posts, the army said.
The Hamas member is "heavily involved" in a wave of incendiary balloons being launched from the Gaza Strip in an attempt to burn Israeli fields along the border, the army claimed.
Israel has stepped up its response to the balloon and kite launchers amid pressure from right-wing politicians and Israeli civilians along the border.
Hamas fired a barrage of projectiles towards Israeli territory "simultaneously" with the Israeli strikes, the army added.
On Tuesday, Israel launched separate airstrikes on a vehicle used for carrying kites and balloons to eastern Gaza and on Palestinians launching flaming kites and balloons from the Gaza Strip into Israel.
Protests largely led by Hamas have raged along the Gaza border with Israel in recent months, with over 130 Palestinians being killed by Israeli forces, according to the Gaza Health Ministry.
Hamas, considered a terrorist group by Israel, the US, and the European Union, has ruled the Gaza Strip since seizing control in 2007.