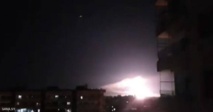 The strikes were aimed at targets from the Iranian Quds Force, a force of the Iran's Islamic Revolutionary Guard, and the Syrian military, the Israeli military tweeted.
Israel was responding to rockets it said were fired in its direction by an Iranian force in Syria the previous night.
"We hold the Syrian regime responsible for the actions that take place in Syrian territory and warn them against allowing further attacks against Israel," the Israel Defense Forces (IDF) tweeted.
"We will continue operating firmly and for as long as necessary against the Iranian entrenchment in Syria."
Syria's air defence system intercepted "thwarted the intense attack and intercepted the hostile missiles and downed most of them before they reached their targets," state news agency SANA reported citing a military source.
According to the source Israeli warplanes fired missiles at 1:20 am (2320 GMT Tuesday) from the Golan Heights and Marjayoun in southern Lebanon.
Israel said Syria's air force fired a rocket in spite of warnings not to do so.
The Wednesday strikes come a day after the Britain-based Syrian Observatory for Human Rights said that the Israeli army fired five rockets towards the south of Damascus, several of which were intercepted.
The war monitor said Syrian ground defences confronted the rockets.
Earlier this month, three Israeli rocket attacks west of Damascus targeted the house of Akram al-Ajouri, a top leader of the Quds Brigade, the armed wing of the Islamic Jihad in the Gaza Strip.
Al-Ajouri was not killed in the attack, though his son and another person died.
The Israeli army has in the past targeted Shiite militias, including operatives from Iran's Quds Force, that it says were responsible for attacks from Syria aimed at Israel.
Israel defends the strikes by saying it is trying to prevent Iran from building up its military influence in the region.
Notepad