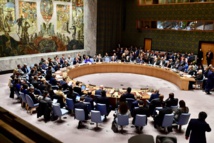 The Security Council on Friday resoundingly rejected the US bid to indefinitely extend the arms embargo on Iran.
The US-sponsored resolution received two votes in favour, two against, and 11 abstentions, the council's president announced.
The 13-year-old arms embargo on Iran is set to end in October, under a provision of UN Resolution 2231, in which the Security Council backed the nuclear deal between Tehran and six world powers signed in Vienna in 2015.
Israel and Iran are arch-enemies. Israel accuses Tehran of continuing to work on developing nuclear weapons, while Iran threatens the existence of the Jewish state.
Iran's supreme leader Ayatollah Ali Khamenei recently described Israel as a tumour in the Middle East region that had to be excised and removed with jihad, or holy war, by the Palestinians.
Tehran considers
The UN Security Council's rejection of a US bid to extend an arms embargo for Tehran is a "major political defeat" for Washington, according to Iran.
"For the first time in history, a US proposal was rejected in the UN Security Council," Iranian President Hassan Rowhani claimed on Iranian television.
"This is a major political defeat for Washington," Rowhani added.