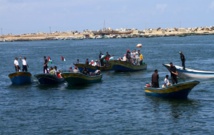 COGAT, the Israeli defence ministry agency responsible for civilian affairs in the Palestinian territories, said in a statement the measure would last until the end of June. The measure was to enable the strip's fishermen to maximise catches during the crucial summer fishing season, COGAT said.
The new policy was to take effect at 1200 GMT on Wednesday, Mohammed al-Maqadma of the Palestinian office that coordinates with Israeli authorities said earlier.
It will however only apply to the southern half of the Gaza Strip, he said.
Nizar Ayash, head of the Gazan fishermen's union, confirmed the change and said he hoped it would help alleviate difficult conditions for them.
The size of the fishing zone has varied over the years, having been set at 20 nautical miles by the Oslo accords of the 1990s before being reduced by Israeli authorities.
Around 4,000 fishermen work in Gaza, more than half of whom live below the poverty line.
Mohamed Bakr, a fisherman in Gaza for more than 50 years, said the new measure was not enough.
"At nine miles you can't catch anything. There's only sand," he told AFP.
COGAT said that a similar easing last year increased fishing earnings by 15 percent that year, or one million shekels ($277,000, 256,400 euros), compared to 2015, bringing total fishing revenues for 2016 to seven million shekels.
Israel previously extended the fishing zone to up to nine miles for several months in 2016.
Israel and Palestinian militants in Gaza have fought three wars since 2008 and the strip has been under an Israeli blockade for 10 years.
UN officials have called for the blockade to be lifted, citing deteriorating humanitarian conditions, but Israel says it is needed to keep Hamas, which runs the strip, from importing weapons or materials used to make them.
Israeli forces routinely fire on any fishing vessel close to the outer limit of the allowed fishing zone.