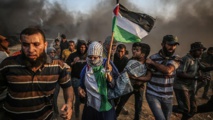 The Gaza Health Ministry said one Palestinian was killed and four others injured in the cross-border shelling.
"Following the recent events in the Gaza Strip and in consultation with security bodies, Prime Minister Netanyahu decided not to allow the transfer of Qatari money tomorrow to the Gaza Strip," Israeli officials said in a statement Tuesday night.
Qatar had been due to deliver 15 million dollars of cash to pay the salaries of civil servants employed by Hamas. This would have been the third transfer of funds from Qatar to Gaza as part of a Hamas-Israel ceasefire agreement.
According to Palestinian sources, Qatar has pledged 150 million dollars for improving the humanitarian crisis in Gaza within six months. The money is earmarked for resolving the electricity shortage, helping poor families and paying the salaries of employees appointed by Hamas after it took over the enclave in 2007.
The Palestinian Authority has opposed the Qatari plan of "pumping money" into Gaza, believing that it will boost Hamas' rule and delay efforts to resolve 12 years of internal Palestinian division.
Netanyahu had previously justified allowing the transfer of funds for humanitarian reasons.