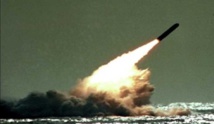 No injuries were reported from the rocket fire or the Israeli retaliation.
The army said it struck one of the militant group's military compounds, a training facility and a munition manufacturing and storage site among other targets.
The flare-up comes as Egypt is attempting to broker a truce between Israel and Hamas, but talks appear to have faltered.
The Israeli military said Hamas "is responsible for all events transpiring in the Gaza Strip and emanating from it, and will bear the consequences for the terror it has waged against Israeli civilians."
Hamas has ruled the Gaza Strip since seizing power in 2007, though other smaller militant factions operate in the area.
Gaza - home to around 2 million people - is suffering from a severe lack of electricity and clean drinking water. The enclave has one of the highest unemployment rates in the world.