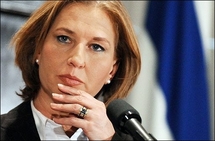 Under the terms of the proposal, Israeli troops would remain inside the territory for an unspecified period, a senior Israeli government official told AFP on condition of anonymity
"The security cabinet is expected to vote in favour of a unilateral ceasefire at tomorrow's meeting following the signing of the memorandum in Washington and significant progress made in Cairo," the official said.
The breakthrough came after Israel's Foreign Minister Tzipi Livni signed an agreement in Washington with Secretary of State Condoleezza Rice under which the United States would assist in preventing smuggling into Gaza, and a top envoy returned from talks with officials in Cairo.
"Olmert was satisfied with the results of the talks in Cairo, which answered Israel's basic requirements for a thorough answer to Israel's demands to halt rocket fire and an agreement on coordination between Israel and Egypt on the opening of the crossings" in Gaza, added the official.
However, although Olmert is in favour of the ceasefire, its approval is not certain as the security cabinet has shown previous divisions over the conduct of the war which was designed to put an end to rockets fired from Gaza.
Even as the stage was being set for a possible end to the Israeli offensive, in which at least 1,188 Palestinians have been killed, including 410 children, the military was staging a fresh wave of deadly strikes on the territory.
At least 55 Palestinians were killed on Friday, including at least 10 people who died when a tank shell slammed into their house in Gaza City during a funeral wake, according to Palestinian medics.
In the Jabaliya refugee camp in the north of the territory, three daughters and a niece of a Palestinian doctor working in Israel were killed in an Israeli air strike.
"They were girls, only girls. I want to know why they have they killed them. Who gave the order to fire?" the children's sobbing father Ezzedine Abu Eish said on Israeli television.
Palestinian militants meanwhile fired over 20 rockets and mortar rounds into southern Israel on Friday, wounding five people, the Israeli military said. Over 700 such projectiles have been fired since the start of the war.
Earlier Khaled Meshaal, the exiled head of Hamas's politburo, told Arab leaders the Islamist movement would not accept any ceasefire that did not provide for a full Israeli pullout and the opening of Gaza's borders, including into Egypt.
"I assure you: despite all the destruction in Gaza, we will not accept Israel's conditions for a ceasefire," he told a meeting of Arab and other leaders in Doha.
His deputy Mussa Abu Marzuk later told Al-Jazeera television that Hamas would not make any decisions regarding a unilateral Israel ceasefire until its delegation held a fresh round of talks with Cairo on Saturday.
Clamping down on the porous Gaza-Egypt border, where hundreds of underground tunnels form Hamas's main rear supply route, has been a key Israeli demand for ending the offensive that has has also wounded around 5,285 people.
After signing the deal in Washington, Livni told Israeli television that smuggling weapons into Gaza was tantamount to firing at Israel.
"They continue doing this, Israel has the right to respond," she said.
Rice said she hoped the agreement, under which the United States and Israel will step up efforts to stamp out arms smuggling to Gaza, would advance efforts to secure a ceasefire.
"There's a lot of work ahead here, but I certainly hope that we can push this to conclusion or ceasefire very, very soon," she said.
Hamas, which seized control of Gaza in June 2007 by ousting forces loyal to the Western-backed Palestinian president Mahmud Abbas, wants to be represented at Gaza's Rafah border crossing with Egypt.
Israel however has demanded that the border be monitored by Abbas's forces, and rejected a proposal by Hamas, conveyed via Egypt, for a year-long renewable ceasefire, according to an Israeli diplomatic source.
The war in Gaza has drawn worldwide protests and raised fears of a humanitarian crisis in the impoverished territory of 1.5 million people, which has been under a crippling Israeli blockade for 18 months.
-------------------------------------
Image of Israeli Foreign Minister Tzipi Livni, by Jewel Samad.