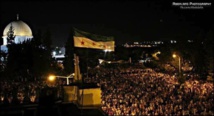 Violent protests near the mosque site - known as the Temple Mount to Jews and the Noble Sanctuary to Muslims - were triggered by Israeli authorities' installation of metal detectors and security cameras there following an attack on July 14 in which two Israeli police officers were killed.
Israel on Tuesday removed the metal detectors - the most controversial Israeli measure - and by Thursday, extra metal barriers, scaffolding and railings were also removed.
Local media reported that 30,000 prayed in the streets outside the mosque on Wednesday night.
Palestinians celebrated in the streets at Thursday's news, but fears remained that violence could return to the area again after Friday prayers.
The Muslim religious authority, termed the Waqf, is due to release its final decision on Thursday on whether to end the protests and permit Muslims to enter the holy site.
Four Palestinians have been killed in clashes with police over the past week and three Israelis were stabbed by a Palestinian man claiming to be defending the al-Aqsa Mosque.
Palestinians claim Israeli security measures were attempts to impose Israeli control over the site, the holiest place in Jerusalem for Muslims and Jews. Israel denies these claims stating that they are basic security measures common at holy places around the world.
Palestinian Authority President Mahmoud Abbas' Fatah movement and the radical Islamist movement Hamas, which controls the Gaza Strip, have called for another "Day of Rage" on Friday.