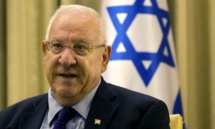 During his speech, the Israeli president said he would light a candle and dedicate a prayer to the 1,439 people who had so far died in the country during the pandemic.
Yom Kippur, which lasts until Monday evening, is the most important Jewish holiday, during which hundreds of thousands of people usually go to synagogues to pray.
Prime Minister Benjamin Netanyahu has urged people to pray outdoors instead due to infection risks, a call that has been echoed by rabbis, the Jerusalem Post reported.
Many fear that especially orthodox Jews would not heed the call and risk spreading the virus.
Infections have risen especially in orthodox Jewish neighbourhoods, where large families often live together in small spaces.
Meanwhile, anger against government restrictions persists. Critics say Netanyahu is using coronavirus measures to ban the ongoing weekly protests against him.
The Knesset, Israel's parliament, is set to debate an assembly ban on Tuesday.
Infection numbers have reached record highs in Israel, resulting in the government imposing a second lockdown.
On Friday, a record 8,315 new daily infections were recorded and 13.7 per cent of those tested on Saturday resulted positive.