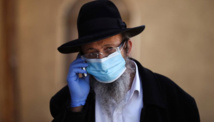 There were 1,758 new cases between midnight and midnight on July 15, the highest number in the country since the outbreak of the pandemic.
If the numbers continue to rise, a lockdown is expected to be declared in the coming days.
There has been a total of 44,563 coronavirus cases confirmed in Israel, with 20,068 recoveries. Over 200 patients are seriously ill, while 377 people have died.
In mid-May, the number of new infections per day in Israel was in the low double-digits. After a rapid easing of restrictions, however, the numbers have skyrocketed since the end of May.
Israeli Prime Minister Benjamin Netanyahu, who was praised for his handling of the first wave of infections, has faced growing criticism as he battles the second wave.
On Wednesday night, Netanyahu announced a one-time payment for all citizens to alleviate the financial crisis brought on by the pandemic.
The payments still need to be approved by the government and possibly also by parliament.
Critics called Netanyahu's move populist aimed at quelling the protests against his handling of the crisis.
Almost a week ago, Netanyahu had already presented an aid package to alleviate the financial pressure from the pandemic. The package is worth around 20 billion euros.