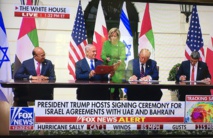 The agreements were singed in triplicate - in Arabic, English and Hebrew - first by the UAE and Israel and then by Bahrain and Israel.
Israeli Prime Minister Benjamin Netanyahu and the UAE and Bahraini foreign ministers, Abdullah bin Zayed al-Nahyan and Abdullatif bin Rashid al-Zayani, represented their countries at the ceremony.
The three countries and the US also formally signed the so-called Abraham Accords, a four-way agreement between the states that sees the Arab nations and the Jewish State normalize ties.
The accords are also meant to be a blueprint for further states to agree to normalize ties with Israel.
The event is the first such normalization of ties between major Arab nations and Israel in more than a quarter-century. Egypt and Jordan maintain full relations with Israel.