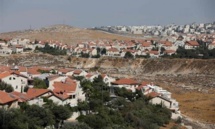 Israel, which accuses the United Nations and its organizations of having an anti-Israel bias, had announced in 2012 that it would end its cooperation with the UN Human Rights Council. The country later left formally the UN cultural organization UNESCO in early 2019.
On Wednesday, the UN Human Rights Office published a list that included 94 Israeli enterprises and 18 foreign ones, such as tourism platforms Airbnb, Booking.com, Expedia and TripAdvisor, that have facilitated Israeli settlements in Palestinian Territories.
The Geneva-based UN agency completed the list four years after the UN Human Rights Council had asked for it, in a resolution aimed at holding private companies accountable for their effect on the human rights of Palestinians.
Inclusion in the list means the UN Human Rights Office believes these firms to have taken part in activities such as supplying construction equipment, security, maintenance or banking services to settlements, as well as equipment for the destruction of Palestinian property.
"With the publication of this list, the High Commissioner has lost all credibility or ability to promote human rights in our region," said Israel's permanent mission to the United Nations in Geneva.
Muhammad Shtayyeh, the Palestinian prime minister, welcomed the publication. He called for companies on the list to close their branches in the settlements and threatened to pursue them legally.
Notepad