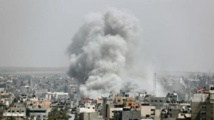 "We just targeted a Hamas military post in the northern Gaza Strip in response to the rocket fired from Gaza at Israeli civilians earlier tonight," the IDF tweeted.
Just an hour earlier the Israeli army had tweeted that one rocket had been fired from Gaza, saying it was the fourth fired "at Israeli civilians this week."
The army then said that air raid sirens were sounding in southern Israel just before midnight (2200 GMT).
The conflict between Israel and Palestinian militants in Gaza intensified two weeks ago when a military chief from Islamic Jihad was targeted and killed in an Israeli strike on the Gaza Strip.
At least 36 Palestinians have died over the past few weeks as a result of the Israeli airstrikes; most were militant fighters, according to information from the Palestinian authorities. However, eight members of a family were also killed.
On November 12, Israel targeted and killed a military chief from Islamic Jihad in the Gaza Strip.

In response, the extremist organization fired more than 360 rockets into Israel, according to information provided by the Israeli army.

Israel attacked dozens of Islamic Jihad targets at the same time, before the two sides agreed to a ceasefire brokered by Egypt and the United Nations.