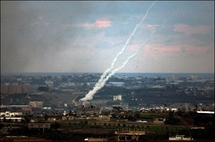 As anger over the devastating offensive spiralled in the Muslim world and elsewhere, UN chief Ban Ki-moon again implored world leaders to work urgently to end the "unacceptable" violence.
Children again fell victim to Israel's "all-out war" on the Islamist Hamas movement, with two sisters dying when a missile slammed into their donkey cart in the northern town of Beit Hanun.
In Gaza City, residents picked through rubble and broken glass after a night in which Israel hammered the overcrowded territory with some 40 strikes targeting Hamas buildings
With tanks and personnel massed on the Gaza border, Israel said infantry was ready to join what it warned would be a prolonged offensive.
Israeli Prime Minister Ehud Olmert said the bombardment so far was "the first of several stages approved by the security cabinet," while Deputy Defence Minister Matan Vilnai warned the offensive -- one of Israel's deadliest ever against Gaza -- could take weeks.
"We are ready for a prolonged conflict and for weeks of combat," Vilnai said.
An army spokeswoman said that "the ground forces are ready. The option (of a ground operation) exists. It is possible that we will apply it but for the moment we are only hitting from the air and the sea."
Defence Minister Ehud Barak, who has described the bombardment as an "all-out war" against Hamas, has repeatedly warned that he is ready to send ground troops into Gaza.
The four days of intensive bombardment, which has killed several senior Hamas officials and reduced many of the group's structures in Gaza to rubble, has failed to stop rocket fire from the territory.
Three Israelis -- two civilians and one soldier -- were killed on Monday by rockets fired from Gaza, with one reaching the deepest yet inside Israel and slamming into the southern port city of Ashdod, more than 30 kilometres (18 miles) from the border.
Hamas has also warned it could launch suicide attacks against Israel for the first time since January 2005
Since Israel unleashed its massive aerial attack on Saturday following persistent rocket fire from Gaza, at least 360 Palestinians, including 39 children, have been killed and 1,690 wounded, according to Gaza medics.
Palestinian militants have fired more than 250 rockets, killing four people inside Israel and wounding around two dozen more.
Israel's main ally Washington has signalled strong support for the operation.
"The United States understands that Israel needs to take actions to defend itself," said White House spokesman Gordon Johndroe. "They are taking the steps that they feel are necessary to deal with the terrorist threat."
At the United Nations, Ban said he was "deeply alarmed by the current escalation of violence in and around Gaza. This is unacceptable.
"Both Israel and Hamas must halt their acts of violence and... a ceasefire must be declared immediately."