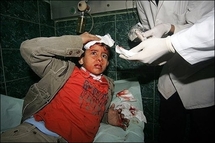 Ground troops clashed with militants in fierce fighting north of Gaza City while the military said it had launched 60 air strikes targeting arms manufacturing sites, weapons depots and smuggling tunnels.
In a closed-door briefing a high-ranking army officer said Israeli troops had killed more than 550 Palestinian fighters since the operation began, a senior military official told AFP.
Israeli army spokesman Jacob Dallal declined to confirm the number but said "several hundred" fighters, most of them from Hamas, had been killed since Israel launched its offensive on December 27.
"There is no question that the military ability of Hamas has been diminished," he said.
The military said one of those killed was Amir Mansi, a senior Hamas rocket launcher responsible for many of the long-range rockets fired in recent days. Hamas refused to say where he ranked in the movement's armed wing.
Hamas meanwhile claimed it was repulsing the Israeli offensive, with Khaled Meshaal, the head of its powerful Syria-based politburo, accusing Israel of carrying out a "Holocaust" in Gaza.
"You have lost on the moral and humanitarian fronts... and you have created a resistance in every house," Meshaal said in a pre-recorded statement aired on Arab satellite television.
"I can say with full confidence that on the military level the enemy has totally failed, it has not achieved anything.
"Has it stopped the rockets?" he asked of Israel's declared aim in launching the offensive.
Israeli forces killed at least 28 people on Saturday including 17 in heavy fighting in the north and around Gaza City, according to Dr Muawiya Hassanein, head of Gaza emergency services.
Since the Israeli offensive began on December 27, at least 854 people have been killed, including 270 children, 93 women, and 12 paramedics, he said.
Another 3,490 people have been wounded, overwhelming Gaza's beleaguered medical facilities.
Hamas and other armed groups meanwhile fired at least 13 rockets into Israel, wounding four people, according to the Israeli army.
Egypt has been spearheading US-backed efforts to end the fighting, with President Hosni Mubarak meeting Palestinian president Mahmud Abbas on Saturday, who urged Israel and his Hamas rivals to accept the plan "without hesitation."
A Hamas delegation was also due to hold talks with Egyptian intelligence chief Omar Suleiman.
But Meshaal said Hamas would not accept any truce without the withdrawal of all Israeli forces and the lifting of the Israeli blockade enacted on the territory when the Islamist movement seized power in June 2007.
"With an open mind we will work with any initiative or any resolution but only based on these demands. We will not accept negotiations on a truce under fire," he said.
Mubarak's initiative calls for an immediate truce for a specified period, opening Gaza's border crossings, preventing arms smuggling and a call for Palestinians to resume reconciliation talks.
But Meshaal said Hamas "will consider any international troops imposed on our people as an occupation force" and Hamas and other groups have said they will oppose any measure that hinders the armed "resistance."
Hamas and Israel have both already brushed aside a UN Security Council resolution calling for an immediate truce in a territory.
The conflict has sparked worldwide pro-Palestinian demonstrations, including rallies in Europe that drew tens of thousands of war protesters.
In London thousands of protestors clashed with police around the Israeli embassy, while in Paris protesters shattered windows and lit scooters on fire after a rally attended by more than 30,000 people.
In Tel Aviv a few hundred Israelis gathered to call for an end to the fighting in a rally organised by the Peace Now movement.
Israel launched the war aiming to end rocket fire against southern towns and the smuggling of weapons into Gaza through tunnels under the border with Egypt.
Ten Israeli soldiers and three civilians have been killed in combat or in rocket attacks since the operation began, as Palestinian militants have fired more than 600 rockets, some of them penetrating deeper than ever inside Israel.
----------------------------------------------
Image of a wounded Palestinian boy is treated by medics at Gaza City's al-Shifa hospital following Israeli strikes, by Yasser Saymeh.