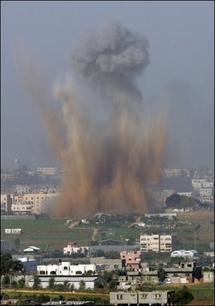 Hamas responded by firing rockets the deepest yet into Israel, with one hitting without causing casualties not far from Ashdod, home to Israel's second-largest port some 30 kilometres (18 miles) north of Gaza, medics said.
In the latest international call for the violence to end, the United Nations Security Council met in emergency session and urged an immediate halt to all military operations.
But Israeli Defence Minister Ehud Barak vowed to expand the mammoth bombing campaign, unleashed in retaliation for ongoing militant rocket fire.
"The IDF (Israeli Defence Forces) will expand and deepen its operations in Gaza as much as necessary," he told reporters before a cabinet meeting

"If it's necessary to deploy ground forces to defend our citizens, we will do so," his spokesman quoted him as saying earlier.
The Israeli cabinet gave the green light to call up 6,500 reserve soldiers, a senior official told reporters after the meeting.
Israeli television said the army had begun concentrating ground forces near the tiny Palestinian enclave, where medics said at least 282 people were killed and more than 600 wounded since early on Saturday.
AFPExiled Hamas chief Khaled Meshaal who has called for a new Palestinian intifada -- or uprising -- against Israel


Warplanes continued to pound the impoverished and overcrowded territory of 1.5 million, where many streets were deserted and schools and shops stayed shut.
Businesses in the occupied West Bank and annexed east Jerusalem observed a strike in protest at the onslaught.
Israeli Prime Minister Ehud Olmert said the campaign was launched "in order to regain a normal life for the citizens in the south who have suffered for many years from incessant rocket, mortar and terror attacks."
Israel is "aiming to change the situation on the ground whereby in the future there will be a tranquil border between Israel and Gaza," Welfare Minister Isaac Herzog told reporters.
But Hamas, the Islamist Palestinian movement branded a terror group by Israel and the West, remained defiant.

Its exiled leader Khaled Meshaal called in Damascus for a new Palestinian intifada, or uprising, against Israel and promised more suicide attacks. Hamas last carried out a suicide bombing against Israel in January 2005.
The Israeli bombardment, one of the bloodiest 24-hour periods in the 60-year Israeli-Palestinian conflict and one of the largest military operations in Gaza since Israel captured it in the 1967 war, has sparked massive international concern.
In New York, the UN Security Council called for an "immediate halt to all violence" and on the parties "to stop immediately all military activities," without mentioning Israel or Hamas by name.

Egypt, which had brokered a six-month Israel-Hamas truce that expired on December 19, said it was trying to negotiate a new ceasefire.
A meeting of Arab League foreign ministers set for Cairo on Wednesday should agree on a plan to deal with the crisis, Egyptian Foreign Minister Ahmed Abul Gheit told reporters.
Israel's main ally the United States has blamed Hamas "thugs" for provoking the campaign by firing rockets into the Jewish state from Gaza, and urged Israel to avoid causing civilian casualties.
Amid the bombing, Barak also authorised the passage of an aid convoy into Gaza on Sunday, his spokeswoman said.
Israel has kept Gaza largely sealed off since Hamas violently seized power there in June 2007, overrunning forces loyal to secular president Mahmud Abbas.
AFPPalestinians inspect the body of a man killed by an Israeli air strike near Al-Shifa mosque in Gaza City
Egypt, which has slammed Israel for the bombing campaign, on Sunday blamed Hamas for not allowing hundreds of wounded to pass through the Rafah border crossing -- the only one bypassing Israel -- for medical treatment.
"The wounded are barred from crossing" into Egypt, Abul Gheit said, blaming "those who control Gaza. We are waiting for the wounded to cross."
Israel unleashed "Operation Cast Lead" against Hamas targets mid-morning on Saturday, with some 60 warplanes hitting more than 50 targets in just a few minutes.
By Sunday, the Israeli military had hit some 230 targets in the territory, the army said.
Hamas has responded by firing more than 90 rockets and mortar rounds at Israel, killing one man and wounding a handful of others.
The Israeli bombing came after days of spiralling violence that followed the expiry of the six-month truce. It also comes less than two months ahead of Israeli snap elections called for February 10.