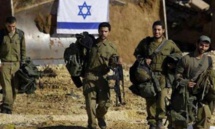 The military said the air force had attacked infrastructure in the south of the coastal strip that the Islamist Hamas uses for underground activities.
Israeli tanks also fired on Hamas military bases, the army said.
There were no initial reports of injuries.
For the first time in more than a month, a rocket had been fired at Israel from the Gaza Strip, which struck in an open area, according to media reports.
Since last week, several fire balloons have also been sent to Israel from the Palestinian territory.
Since the coronavirus crisis, such incidents have occurred with less frequency.
On Sunday, Hamas did not want to comment on media reports alleging that Israel had allowed the transfer of aid money from Qatar to the Gaza Strip equivalent to 44 million euros (50 million dollars).
The European Union, Israel and the United States designate Hamas, which is committed to the destruction of Israel, as a terrorist organization.
In 2007, Israel tightened its blockade of the coastal Gaza Strip, a measure now supported by Egypt, with both countries citing security concerns.
Around 2 million people live in precarious conditions in the densely populated coastal strip.