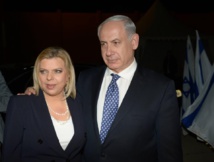 Netanyahu's speech, already being labelled as the "pickles speech," is the latest in an increasingly fierce string of attacks by the prime minister against what he says is a cabal of left-wing elites and the media attempting to overthrow one of the most conservative governing coalitions in Israel's history.
"The industry of despair still exists and has representatives in this house and in the media," Netanyahu said, "Recently the industry of despair has grown a new branch, the sourpuss branch."
"Everything was about himself," Yair Lapid head of the centrist Yesh Atid party said to Israel's Army Radio on Tuesday. "You're not a victim, you've been a prime minister on and off for 20 years."
Netanyahu faces multiple corruption probes into his relationships with a newspaper publisher and with billionaires. According to local media reports, he is due to be questioned by police in the coming weeks.
On Monday night, Netanyahu tweeted a picture of himself sitting at his desk with a large can of pickles. "We have a great nation that loves to eat pickles, but we are not sour!" he said.