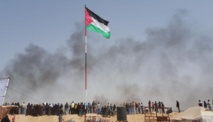 No Palestinians were reported injured in the Israeli tank shelling which comes after 60 Palestinians were killed by Israeli forces along the Gaza border in protests last week.
In the West Bank, the other main Palestinian territory, the army said shots were fired at an Israeli vehicle near the settlement of Na'ama.
No injuries were reported in the incident and the army is searching the area.
The Gaza protests - fuelled by an 11-year blockade on the coastal enclave and the US embassy move to Jerusalem - made Monday the bloodiest day in Gaza since a 2014 war between Israel and Hamas, which still controls the territory.
Israel says that Hamas, the Islamist group which most of the West considers a terrorist organization, is using the protests as a mask to breach the Israeli border fence and attempt attacks on Israeli civilians.